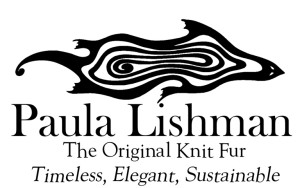 This indulgently soft and incredibly warm sheared beaver scarf by Paula Lishman is hand knit with a creative and unique style. The hand-knitted piece is silky smooth in texture and the perfect accessory for style and warmth. Worn comfortably with a casual day outfit, this piece is sure to kick up any ensemble. Add a little flair to your collection today!
Color: Camel
Features:
Genuine Sheared Beaver Fur

Hand-knit

Warming, silky smooth texture

Made in Canada
Sold Exclusively in the USA on the Monterey Peninsula at Augustina Leathers in Carmel-by-the-Sea, California -- Established in 1987 | Authorized Dealer
Product Care
Professional fur clean only

No washing and drying

No heat exposure

No ironing
History of Paula Lishman International
Augustina's is proud to be the exclusive boutique to find Paula Lishman Hand Knit Furs in the United States.
Over 30 years ago, Paula invented the process of turning fur into yarn. Using her exclusive methods, the yarn is hand knit into luxurious designs. Paula's styles are elegant, sophisticated, and include full-length coats, strollers, jackets, shawls, blankets, and accessories. Every garment at Paula Lishman International is handcrafted by experienced artisans and passes through many hands before it is delivered to you. Each stage of production ensures you receive an amazingly soft and sumptuous hand-knit design of the highest quality.
Materials:
100% Genuine Sheared Beaver Fur
Design Features:
Hand-knit, Warming, silky smooth texture
Origin:
Made in Canada